Chesterfield Gorge Trail – Spofford, NH
Length: 3/4 Mile
Type of Trail: Dirt
Difficulty: Easy-Moderate
Stroller Friendly: No
Dog Friendly: Yes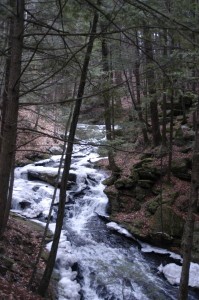 The Chesterfield Gorge Loop trail is a short but rewarding hike. It's easy to find, just off of route 9 in Spofford, NH. We went on a mild day in early January. As we didn't yet have snow cover we were able to take advantage of the milder weather and explore this gorge.
The trail begins downhill toward the gorge until you reach a wooden bridge crossing the water.  At first the drop-off to the water is mild, but it quickly becomes a significant distance from the trail to the bottom of the gorge. On these steep portions, a fence helps to make the trail safer for all.
The river's water is fairly strong in places, and it makes some very interesting ice formation as it spritzes against the rocks.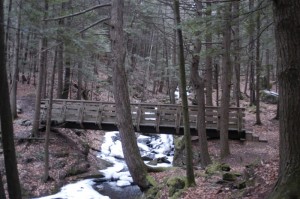 The first 1/2 of the trail is easy as you head downhill towards the gorge. Once you've crossed over the water for the second time on your way back, it's a moderate hike back. Since it's so short (about 1/4 of a mile with a climb), it's still overall a relatively easy trail.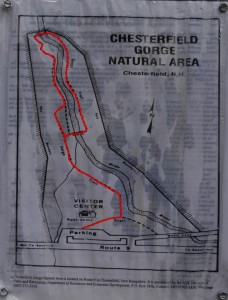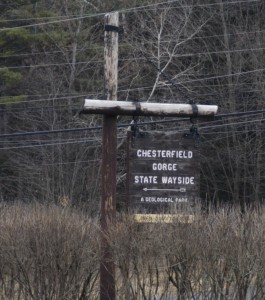 Getting There
Address: 1810 Franklin Pierce Hwy Spofford, NH
Coordinates: 42.914022,-72.404902 (Directions)
More Info: http://www.nhstateparks.org/explore/state-parks/chesterfield-gorge-natural-area.aspx