Jug End State Reservation Loop Trail – Egremont MA
Length: 2-3 Miles
Type of Trail: Dirt
Difficulty: Medium
Stroller Friendly: No
Dog Friendly: Yes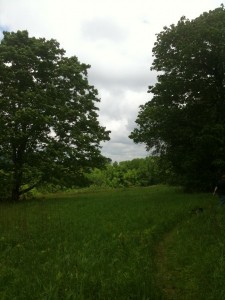 Jug End State Reservation is located in the southern Berkshires of western Massachusetts. This is an incredibly scenic area with many amenities in the area including great dining, outdoor concerts, quaint B&Bs and much more. Mt. Everett State Reservation and Mt. Washington State Forest are both within a short drive and offer fantastic hiking.
A beautiful setting, the Jug End Loop hike takes you through dense woods and vast meadows.  The trail follows Fenton Brook, crossing over it and looping back on the other side on your way back. When we went it was incredibly buggy (biting flies) in the meadows, but better in the woods.
The entrance is a little out of the way, but that helps keep it more remote. We went during June and were the only people there. There are no amenities at the park (bathrooms, etc.), though there are maps available at the trail head.
It's a moderate hike, and although it says 2 miles it felt more like 3-4. In general the terrain in this area is more steep so be prepared for more physical hiking if you're used to more leisurely jaunts.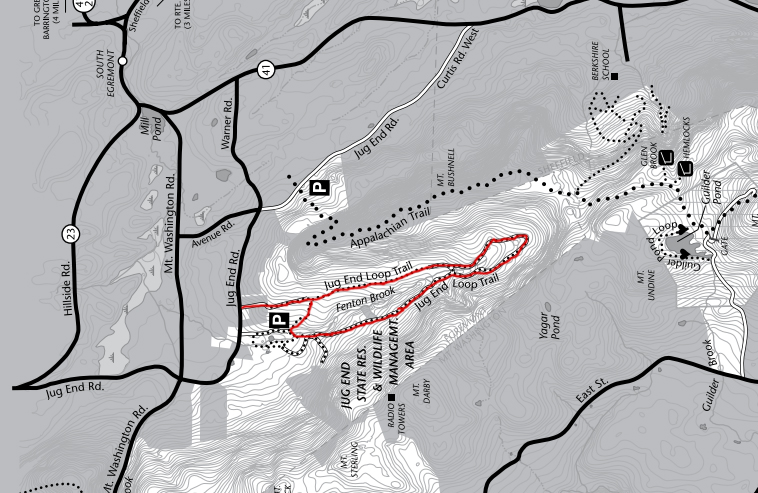 Getting There
Address: Jug End Road Egremont, MA
Coordinates: 42.149405, -73.448410 (Directions)