Rhododendron Loop Trail – Fitzwilliam NH
Length: About a half mile
Type of Trail: Dirt
Difficulty: Easy
Stroller Friendly: Not really
Dog Friendly: Yes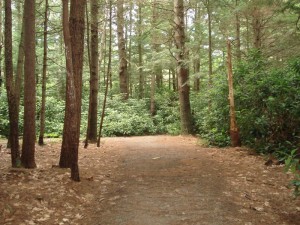 Rhododendron State Forest is about 15 minutes north of the Massachusetts border, and is in an area known for abundant hiking and other outdoor activities.
This easy loop trail is set in beautiful southern New Hampshire. Rhododendron bushes and evergreen trees flank the trail and for a few steps you are surrounded beneath a canopy of these big leaf bushes.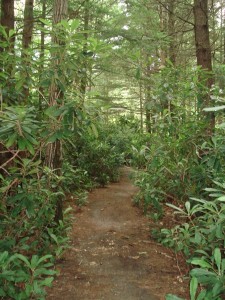 If you're looking for a short hike away from it all, this is the one. We run into other hikers only 25% of the time, and even then it's just one or two.
During the spring the Rhododendrons are in full bloom with bright pink flowers. There is something unique about this park; it always seems that the air is fresher, cleaner and smells better. Perhaps the unique mix of vegetation, perhaps it's just the concept of crossing over into NH, but regardless, a wonderful place to visit.
This state forest also offers a summit climb which we haven't yet discovered, but will post once we've had a chance to explore.
Looking for lunch after your hike? Jaffrey and Peterborough are great nearby towns with fantastic lunch destinations.  The back roads between these New Hampshire towns are stunning especially during the fall. Though these towns are between 15-30 minutes apart, the back country roads lined with houses dating back to the 1700's truly make it worthwhile.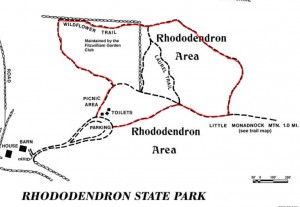 Getting There:
Route 119W Fitzwilliam, NH
Coordinates: 42.785764, -72.186978 (Directions)
More info: http://www.nhstateparks.org/explore/state-parks/rhododendron-state-park.aspx