Norwottuck Rail Trail – Northampton MA
Length: 11 Miles
Type of Trail: Pavement
Difficulty: Easy
Stroller Friendly: Yes
Dog Friendly: Yes
The Norwottuck Rail Trail offers a long stretch of opportunity for walking, biking, roller blading. The bikeway runs parallel to route 9, which is a busy road connecting Northampton to Amherst. Some of the sound from the road is blocked by the line of trees between that and the trail, but there is still some road noise along the trail.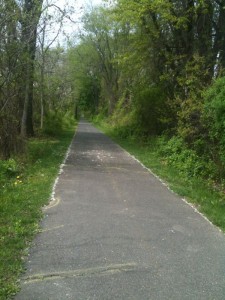 If you're looking for a nice half day excursion, this rail trail is situated between two towns with some of the best food in the area. Both towns are in the 5 colleges area and offer dozens of excellent lunch and dinner options. After a short or long walk, depending on what you're up for, you can then go into either of these two towns for a variety of restaurants. Both Amherst and Northampton are nice walking towns too, offering a variety of other independently owned stores.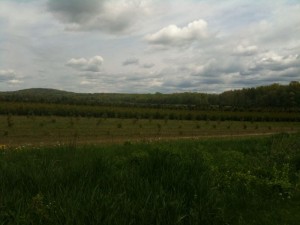 This trail is multi-use so be prepared for bikers, roller-bladers and walkers. This is a very dog-friendly area but keeping fido while on the trail on the leash is preferred, at least while there are other people around.
Getting There:
Address: 446 Damon Rd., Northampton, MA
Coordinates:  42.334232, -72.621109 (Directions)